Marian Marsh was one in a line of cute and almost child-like Precode actresses – think Alice White and more broadly Clara Bow. But it you watch her films it is obvious that she is something special.

Marian was born Violet Krauth on October 17, 1913 in Trinidad. The family of four children moved to Boston, Massachusetts a few years later due to World War 1. However, Marian and her family didn't remain there and they moved to California in 1923 to aid her older sisters acting career. It wasn't until five years later, that Marian got her first chance for a similar career with silent actress Nance O'Neil offering her personalised drama and movement lessons. Her name was soon changed to Marilyn Morgan and she was given a contract with
Pathé to appear mainly in short subjects or bit parts in feature films. Among them, her most notable were small roles in the Jean Harlow film "Hells Angels" (1930) and the Technicolour musical "Whoopee!" (1930).
Marian when she was known as Marilyn Morgan
Her career soon blossomed, when after these appearances, Warner Bros signed her to contract and changed her name to Marian Marsh. Marian's first major role was in 1931 as the young artist model to John Barrymore's artist in the classic film "Svengali".
Marian Marsh and John Barrymore in "Svengali"
She followed this role with major parts in "Five Star Final" (1931) with Edward G. Robinson, "The Road to Singapore" (1931) with William Powell and "The Mad Genius" (1931) again with Barrymore. Marian's gruelling work schedule finally took its toll and in 1932 she decided to leave Warner Bros. and accept film roles in Europe, mainly in England and Germany. Two years later she returned to the US, to appear in her favourite role, "A Girl of the Limberlost" and followed this by signing a two year contract with Columbia Pictures. Marian continued working steadily on feature films until the mid-1940's. She abandoned her career for the next couple of years to have two children with her husband stockbroker Albert Scott. When Marian was in her fifties and film and television offers were dwindling, she focused on her other passion and founded Desert Beautiful, a not-for-profit group to promote environmental conservation. She remained working for the organisation until her death in 2006 at age 93.
Marian Marsh later in her career
Quotes:
Marian Marsh as Margie Evans in "Under 18" (1931)
Margie Evans
: There's plenty of love to be had without making a mess of things. I've made up my mind that any time I hand myself to a man for life, it's cash on delivery. I'm sorry, ma, but what I said goes!

Margie Evans
: Go get ready, Soph. I know just where to take you. I've heard the girls in the store talk about these things.

Reviews:
During the month I will be reviewing the Marian Marsh favourites:
Under 18 (1931)
Beauty and the Boss (1932)
Svengali (1931)
Notorious But Nice (1933)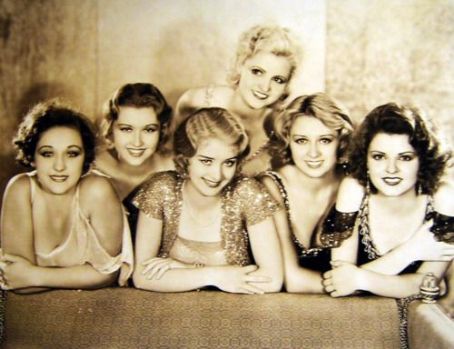 Blink and you will miss it.....