I was bored one day searching YouTube for a couple of interesting classic interviews and I came across the most hilarious and entertaining Bette Davis interview I had ever seen. It is not entirely Precode - although she does go into early 1930's screen tests - but it is a must-watch for any Davis fan and made me love her more.
Here's a few animated gifs I found from a great tumblr site called: 'The Bears Are Coming' which shows the funniest part of the interview.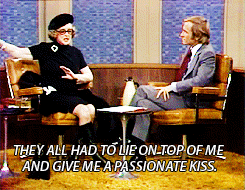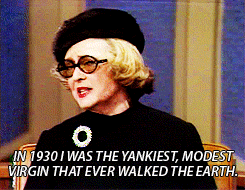 It was mainly her candid nature that struck me. She seemed at ease, confident and in control. The true Bette persona and in this clip openly discusses her beliefs on marriage and sex.
To find more of this interview, they are available in short segments in Youtube.